Fire Extinguishers
Save Lives
See It – Grab It – Use It
Medford, OR – In O'Brien, Oregon, the owners of McGrew's Restaurant were opening for the day when they noticed smoke coming from the restaurant's kitchen. The owners called 911 and used a portable fire extinguisher to successfully contain the fire until responders arrived. Upon arrival, the Illinois Valley Fire District, the Oregon Department of Forestry, and the Rural Metro Fire Rescue extinguished the remaining flames in the dining area, and no one was injured.
Victorville, CA – In Cajon Pass, California, a CalTrans employee stopped on the I-15 freeway to respond to a bush fire in the center divider of the highway. The employee used a portable fire extinguisher to prevent the flames from spreading and to mitigate potential further damage that could have occurred due to the strong winds. The acre-and-a-half fire was contained to the center divider. However, firefighters and the US Forest Service requested the California Highway Patrol to close a portion of the highway while they suppressed the last of the flames and cleaned up the area.
Victor Valley News (Victorville, CA)
New York, NY – In Hamilton Heights, Manhattan, pedestrians on the street witnessed a liquor store burst into flames. One man quickly went next door, grabbed a portable fire extinguisher, and went to work to control the flames while waiting for authorities to respond. When firefighters arrived, they successfully extinguished the remaining flames.
WABC-TV New York (New York, NY)
Deerfield, Mass. – Quick thinking and a pair of fire extinguishers saved a Massachusetts workshop from major damage when a recent fire broke out. The owner of Pioneer Gardens in Deerfield noticed smoke before he and a co-worker grabbed two fire extinguishers that they used to knock down a fire in the workshop. While firefighters arrived to find smoke exiting the building, the fire was already out. Deerfield Fire District Captain Ben Clark said the incident is a great example of why it is important to have fire extinguishers readily available. "It always pays to have a fire extinguisher," said Clark.
Greenfield Recorder / Greenfield, Mass.
Tulsa, OK – After noticing fire coming from a vehicle in front of him at a fast-food drive thru, a former Oklahoma police officer helped the driver of the burning vehicle escape and used a fire extinguisher from the restaurant to keep the fire in check until the fire department arrived. Curtis McLaughlin, who recently finished training to become a nurse, wasted no time taking action. The restaurant owner thanked McLaughlin for rescuing the driver of the other vehicle, John Price. "We are grateful that one of our guests was in the right place at the right time and was able to help another guest to safety. We are proud to serve in a community with such selfless, considerate individuals," said store owner David Chen.
Yuma, Ariz. – A Yuma, Arizona resident was recognized for grabbing and using a fire extinguisher to help a police officer when his motorcycle started on fire. Daniel Sutton was working at an autobody shop when he saw officer Aaron Mrofka getting off of his burning bike. Sutton quickly grabbed a fire extinguisher from the shop and put out the fire. He received a citizen recognition plaque for courageous actions without regard for his own personal safety.
Coventry, RI – A nurse at a Rhode Island rehabilitation facility used a fire extinguisher to help put out a fire and get her patients out of the room where the fire started. "Whatever she did there, probably saved some lives," Timothy McLaughlin, RI Fire Marshall, said. The building's sprinklers, alarm system and staff are also credited with saving lives. The cause of the fire is still under investigation.
Ithaca, NY – Police in Ithaca, NY publicly thanked a local school bus driver after he used a fire extinguisher to knock down flames of a house fire until the fire department arrived. The bus driver, Keith Whitaker, had been a volunteer firefighter for 22 years. After noticing "a flicker out of the corner of [his] eye that didn't look right," Whitaker told his dispatcher to call 911 and ran up to the home with the fire extinguisher from the school bus. Ithaca police say Whitaker potentially saved people from injury and loss of life by alerting the occupants and knocking the flames down. Police declared the house fire an arson investigation.
Appleton, WI – Appleton, Wis. homeowners successfully used a fire extinguisher after calling 911 when a space heater caught fire. While fire crews encountered smoke, there were no activated smoke alarms. They confirmed the fire was all out and had not spread. The Appleton Fire Department reminded residents to have a properly maintained fire extinguisher near an exit and learn how and when to use a fire extinguisher. Also, maintain properly operating smoke alarms on each level of their residence, and only use maintained space heaters and follow proper safety guidance for the use of space heaters.
San Diego, CA – The quick thinking of a pair of good Samaritans is credited with putting out a small San Diego fire. The pair used fire extinguishers to put out the fire that broke out in front of a business. The fire was extinguished by the time fire crews arrived.
The San Diego Union-Tribune (San Diego, CA)
---
Latest Stories
Videos
About FireExtinguishersSaveLives.org
Why Fire Extinguishers are Important
How to Use a Portable Fire Extinguisher
See It, Grab It, Use It Infographic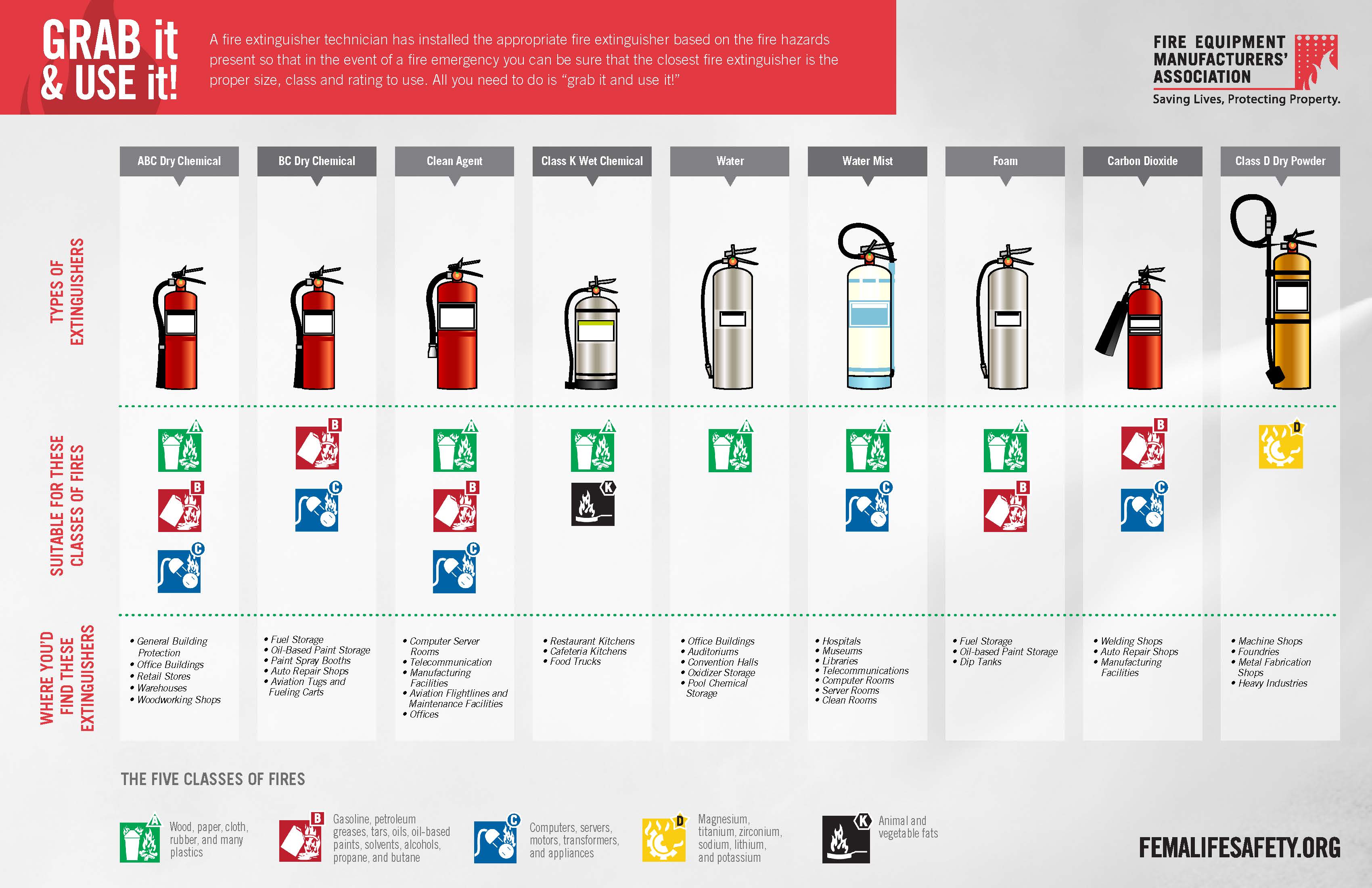 Types of Fire Extinguishers Infographic
Are You Safe? Does your building require fire extinguishers throughout?
Every state has a State Fire Code with a section on fire extinguisher requirements. To get an overview of what state fire codes are based on and if states have made enhancements to fire codes visit the Interactive Fire Safety Map.